Engine Carbon Cleaning Service
DPF or EGR engine management light on? failed regeneration as DPF blocked, limp mode? EGR stuck open?
We are now offering a hydrogen engine carbon clean service, lowers emissions, full engine clean, inc inlet manifold, turbo, injectors, valves, cat & DPF & EGR valve. which has proven benefits in cleaning emission components on diesel & petrol cars & commercial vans.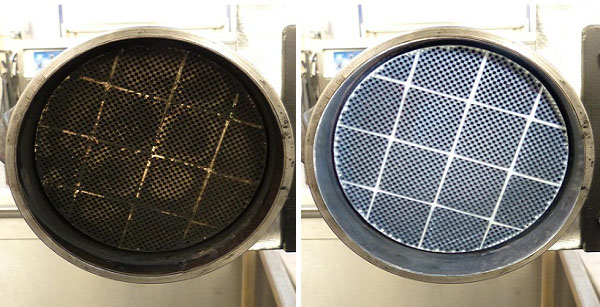 DPF Cleaning Before & After
WORKS ON PETROL & DIESEL ENGINES
Over time carbon builds up inside your engine and engine parts, as diesel and petrol engines do not burn all deposits of carbon, and leave a residue behind, which over time results in loss of engine performance, lumpy tickover, noisier engine, higher emissions,and flat spots, you may suffer oxy sensor problems, EGR valves blocked, engine throttle body faults, DPF's blocked, this is caused by the carbon build up that the fuel has not burned.
To return your engine to maximum performance and get back those miles per gallon you have been losing and prevent further expenses, turbos, EGR valves, Oxy sensors sticking flaps, etc… then our clean is for you.
Our Hydrogen Carbon Cleaning Service uses hydrogen technology to break down carbon deposits from the air intake all the way through the system then out of the exhaust allowing the vehicle to run smoothly again, all areas are cleaned as its a gas that passes through the air intake ( hydrogen which burns 5 times hotter than petrol or diesel hence burning all old deposits away) this will benefit EGR valves, DPF filters, Oxy sensors, inlet manifold, injectors, spark plugs etc.
Anywhere that there is natural air flow through the engine the hydrogen gas will follow and burn deposits as it does, to restore your power lower emissions smoother engine running better mpg performance and all without adding any additive to your engine.
We can incorporate this service at a heavily discounted price combined with any remap, in fact we recommend this HHO deep clean engine service.
Trade garage service available.
PRICE FROM £70.00 INC.
SERVICE TAKES 40MINS - 1HOUR
* PLEASE ENSURE YOU BRING VEHICLE IN WITH AT LEAST A QUARTER OF A TANK OF FUEL
Carbon Clean & Full Diagnostics Pre-Clean & After from £100.00 inc.