Mileage Correction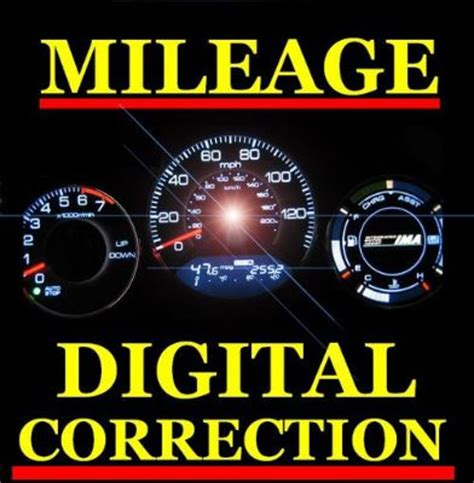 You've come to the right place! Pick up the phone and call to book an appointment with a highly experienced mileage correction specialist. We offer a fast reliable mileage correction professional service, using the latest tools & technology.

PLEASE NOTE - We will not adjust mileage on any car or commercial van without a valid reason, we will require you to sign a disclaimer that states clearly your reason and purpose of using this service.

What is mileage correction?


In simple terms mileage correction is resetting the mileage on a digital odometer to the correct reading when it has become corrupted for a variety of reasons. Advances in car technology have meant that most modern cars and other vehicles are now fitted with a digital dashboard which is cheaper to make and generally more reliable than a mechanical dashboard. As with all new technologies there can be some issues with digital dashboards, and the potential for the odometer - Dash to become corrupt due to electrical spikes from the car's electrical system is one of them. Mileage correction is the process of returning the mileage reading to its true value. It is also known as 'mileage adjustment' or 'mileage recalibration'.

When would you need mileage correction services?


You may need to contact a mileage correction specialist for any of the following reasons:


• You have been in an accident and the damage has corrupted your odometer;
• Your dashboard has been vandalised and the mileage reading is now wrong;
• Your car has been jump started and this has corrupted the mileage reading;
• You have had to replace your instrument cluster with a new or second hand unit and the odometer is displaying the wrong mileage value.

Call Us today on 0800 311 8269 or 07455 118787 for a fast professional service with an experienced mileage correction specialist.

Technology


We use the highest quality latest tech under bonnet mileage correction equipment. This ensures that it is only the mileage reading that is updated and that none of the other electronic data stored in your car is affected. Our equipment is designed specifically for mileage correction.

Attention to detail


Electrical data can be stored on a modern car in a variety of places. We ensures that the mileage reading is updated in all of these areas.

Is mileage correction legal?


Mileage correction is a perfectly legal and often necessary process. Mileage correction services with the intent that they are solely for legal purposes. Booking an appointment with us is confirmation that you believe the mileage reading on your odometer to be incorrect and that the value you ask us to reset it to is the true value. If you sell your vehicle after mileage correction has taken place, it is your responsibility to inform the purchaser that this process has been performed.

!!!Remember!!! Failing to inform the buyer is illegal, and if you intentionally use mileage correction to defraud a buyer, that is a serious offence.
Please read !
Disclaimer.
we only offer our service to correct mileage or speedometer repairs, this can easily happen by jump starting the car, removing the battery, or one of many other reasons.


Our Digital Mileage Correction Services must be used with the intention, that they are for legitimate reasons. By accepting our service the customer acknowledges this to be true. You must note that if a customer sells the vehicle on to someone else then it is the seller's duty to inform the new buyer of these changes.

Ecu Remapping Southwest comply with all the laws regarding odometer - Mileage reset and it is not an offence in this country to change the odometer on your own personal vehicle or to correct a false reading, it is an offence to sell the vehicle knowing that the reading shown is lower than that of the actual reading. If the vehicle's mileage cannot be guaranteed you must display a disclaimer on the odometer the same size or larger than the odometer itself.
Terms & Conditions
This service is to be used at the sole risk of the customer, we will not be held responsible should problems arise after leaving our premises.
We will not be held responsible for any illegal misuse of this service. We repair digital mileage when it has been corrupted for any of the following reasons:


- The speedometer has been replaced due to a fault, new or second hand.
- The vehicle has been converted from kph to mph and has an incorrect odometer reading.
- The vehicle memory module has been corrupted (e.g. jump starting, changing battery, accidental, vandal damage etc).
- If you alter the mileage you should tell the next owner of the vehicle there has been a change in mileage
Below are some of the cars we provide mileage correction for:


Toyota
Subaru
SAAB
Nissan
Porsche
Peugeot
Mitsubishi
MG
Mazda
Maserati
Lotus
Lexus
Lamborghini
Kia
Jeep
Jaguar
Chrysler
Hyundai
Volvo
Smart
Honda
Renault
Fiat
Ferrari
Dodge
Daewoo
Citroen
Chevrolet
Bentley
Audi
Volkswagen
Seat & Skoda
BMW
Mercedes
Mini
Land Rover
Ford
Vauxhall